How Pet Owners Can Keep Their Bedding Clean And Fresh
If you share a bed with your furry friends, you know how challenging it can be to keep things tidy. Pet fur, dirty paws, and pet dander can lead to allergies and leave your bed filled with unwanted bacteria and grime.
Don't worry. You don't need to kick your pets out of bed to keep your bedding clean and pet-odor-free.
We're here to walk you through how to keep your bed clean with dogs and introduce you to some of the best bedding for pet owners. So you can revamp your daily routine to meet your furry friends' needs.
Here's how to pet-proof your bedding:
Invest in Easy-to-Clean
Pet-Friendly Bedding
Whether you have cats or dogs, you'll need an easy-to-clean solution you can easily throw in the washer or dryer weekly. The best bedding for pet owners who need to maintain a regular cleaning cadence should look for 100% cotton sheets and a higher thread count. This type of pet proof bedding gets softer with every wash and will maintain its luxurious look and feel for years.
Throw a Blanket Over Your Duvet
If you're tired of finding pet hair and dander in your bed, consider throwing a blanket over your bedding. Doing this is a great way to protect your duvet from constant shedding and give your furry friends a designated place to sleep in your bed.
Maintain a Regular Cleaning Cadence
If you share a home with pets, you know that cleaning is vital to keeping your home clean and put together. Wash your sheets at least once a week and your duvet every other week to minimize pet fur and keep unwanted odors at bay.
Brush Your Pets Regularly
Keeping a brush nearby is a great way to remove excess hair from your dogs and cats before they jump into your bed. Some animals experience year-long shedding, while others excessively shed when the seasons change. You may need to brush them more frequently when the seasons change. Consider brushing your pets at least once a day or every other week.
Switch From a Solid Bedding Color to a Pattern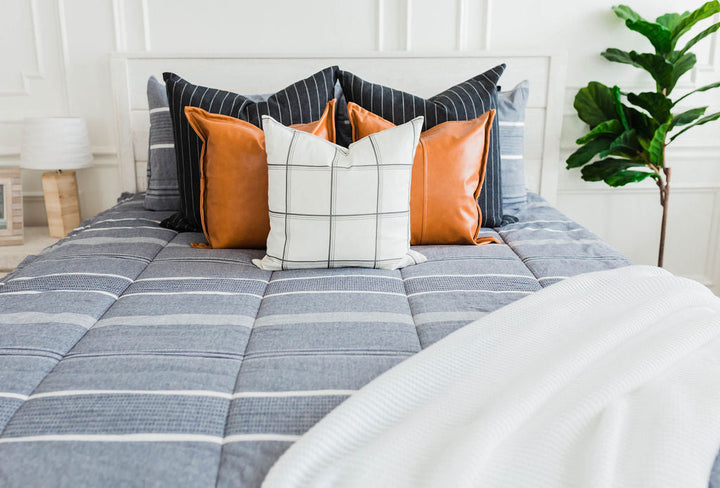 Pet-friendly bedding with a design or pattern is more likely to hide the presence of fur than white or solid-colored bedding. Bedding with a pattern is also a great way to add a playful touch to your bedroom.
Vacuum Your Bedding Regularly
A handy short-term solution for dealing with excess fur on your bed involves using a vacuum whenever possible. This practice effectively eliminates lingering hair and dander, reducing allergies and sneezing. If you're pressed for time and can't vacuum, an alternative is to vigorously shake your duvet and comforter to dislodge any surplus fur from the bed.
Keep a Lint Roller Close By
A lint roller is a great go-to, especially if you have dark-colored bedding that pet fur constantly shows on. Consider keeping a lint roller on your nightstand. So you can quickly eliminate any loose fur from your pet-friendly bedding in the morning when you make your bed.

Buy Your Pet a Pet Bed
If all else fails, you can always try to buy your pet a pet bed and transition them off the bed. While it might not be your favorite option, it can help minimize pet fur, dander, and odor.
Buy The Best
Pet-Friendly Bedding
From Beddy's
If the last thing you want to do is kick your furry friends out of bed, it's time to upgrade to the best bedding for pet owners from Beddy's. We make our pet-friendly bedding with breathable, 100% cotton material, which is more durable than other materials and easy to clean when your pets leave fur or dander behind.
---