The Health Benefits of Regularly Changing Your Sheets
There's no better sensation than clean sheets and fresh linens. That feel-good feeling from clean bedding can positively impact your health and wellness, but you likely wash your sheets and bedding less than you should.
We've grown accustomed to regularly washing our clothes once a week but not the sheets and bedding we sleep in every night.
We're here to walk you through the benefits of clean bed sheets so you can adjust your daily routine to meet your mental health and wellness needs.
Here's everything you need to know:
How Often Should You Wash Your Sheets?
According to the Sleep Foundation, individuals should aim to wash their sheets at least once weekly. However, the average American usually cleans their sheets once every 24 days. While your sheets may feel clean when you jump into bed at night, there's no telling what dirt, grime, and bacteria may be gathering.
The Health
Benefits of Clean Bed Sheets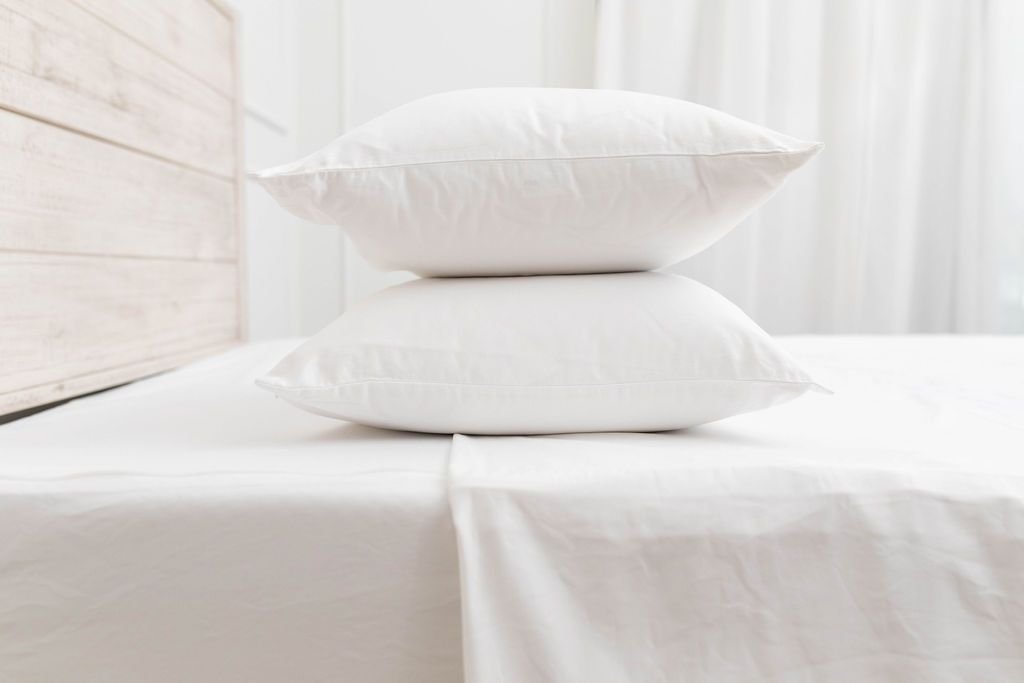 There are many benefits to cleaning your sheets regularly. Changing sheets weekly can provide a much-needed boost, leading to a better night's rest.
Here are some of the benefits of clean sheets:
Removes Dirt, Grime, and Bacteria
Think about all of the dirt, grime, and bacteria that gather on your clothes or body throughout the day. Changing your clothes or showering may help eliminate some bacteria but won't remove it all. Regularly cleaning or changing sheets will help you eliminate the excess grime, giving you a clean place to rest at the end of a long day.
Eliminated Pet Fur and Dander
Share a bed with your furry friends? While they might be cute and snuggly, they can also leave pet fur, dander, and odors, which can cause allergies or skin irritation. Try to brush your pets regularly or keep a lint roller nearby so you can remove any excess fur and dander before it leads to allergies or irritation.
Improves Your Sleeping Patterns
Yes. Clean sheets can improve your sleep patterns and help you sleep longer! Freshly cleansed sheets and bedding can promote better sleep patterns. The fresh, feel-good feeling makes it easier to fall asleep quicker and can improve your mood before bed. Changing your bedsheets can also help regulate your body temperature, reducing sweating and improving moisture control.
Reduces Skin Inflammation and Breakouts
Oils, bacteria, and grime can accumulate on your sheets, leading to unwanted skin irritation. Dirty sheets can also trigger skin inflammation like eczema, atopic dermatitis, or ringworm.
Reduces Your Risk of Dust Mites and Bed Bugs
Regularly washing your sheets and bedding can help you detect a bed bug problem early on before it becomes a problem. Bed bugs can lead to painful skin irritation and disrupt your sleeping patterns.
If you aren't washing or changing sheets regularly and a bed bug infestation goes unnoticed, it can be challenging and affect your mental and physical health. You'll need to invest in a pesticide and consult with pest control to eliminate the infestation.
Changing Sheets
Made Easy With Beddy's
If you struggle with cleaning sheets once a week, know you aren't alone. Washing your sheets can be a nuisance, but we have a solution if you're tired of fighting with the bottom sheet or remaking your bed daily. Cutting-edge zipper bedding relieves the stress of cleaning and making your bed. This allows you to experience the health benefits of clean bed sheets.
Explore our selection of zippered bedding today!
---